Comic Shop Spotlight: Atomic Empire
Dec 01, 2016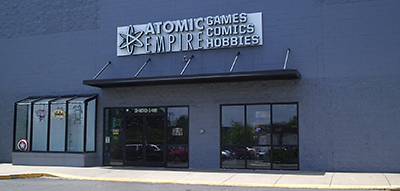 Atomic Empire in Durham, North Carolina

OWNER: Jennifer Bedell
NUMBER OF EMPLOYEES: 20
YEAR OPENED: 2006
NUMBER OF LOCATIONS: 1
STORE SIZE (SQ. FT): 7,000

Favorite Recent Comic Book: Ms. Marvel
How was your Halloween ComicFest event? Great! We had kids and adults alike show up in great costumes.
What has been your best promotion or event? Free Comic Book Day is always a hit, but we had the most fun when we paired it with a Duck-Rabbit Brewery tap takeover.
What steps have you taken to expand your customer base or to reach out to individuals unfamiliar with your store or comics in general? We like to help out with events at local museums, libraries, and schools to try to raise awareness of comic books and games alike for kids and their parents.
How did you choose your store name? Our store was originally called Sci-Fi Genre Comics & Games. We quickly discovered that it was difficult to spell or pronounce! So when we moved into a new location, we decided to change it to something more familiar but still distinctive.
What superpower would you most like to have? I need Jamie Madrox's self-replication ability so I can do a bunch of things at once!