Comic Shop Spotlight: All About Books and Comics
Dec 01, 2016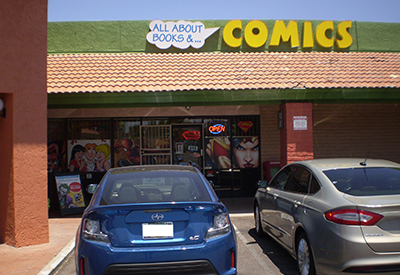 Click to see larger image.
All About Books and Comics in Phoenix, AZ.

OWNERS: Marsha and Alan Giroux
MANAGER: Eddie Armendariz
NUMBER OF EMPLOYEES: 7
YEAR OPENED: 1981
NUMBER OF LOCATIONS: 1+

STORE SIZE (SQ. FT): 3,500 (Including Warehouse)


Favorite Recent Comic Book: Daredevil
How was your Halloween ComicFest event? Fun-filled family event but not as popular as Free Comic Book Day.
What has been your best promotion or event? Our Kickstarter Campaign "Mom & Pop Move Their Comic Shop" was our best promotion ever, followed by very successful, jam-packed Free Comic Book Day events every year.
What recent changes have you made in the store? We moved our location of the last 15 years around the corner and got two spaces after losing our current lease. We have our main superstore for new comics, back issue comics, gifts, specialty, toys, & etc. and opened a smaller discount store for overstock comics at 99 cents. This space is in front of our back issue warehouse of a million comics and pays for the cost of the warehouse. Our customers love the amazing deals they can get and we have a source to move inventory that would otherwise sit.
In the main shop we had custom back issue racks built and upgraded most of our fixtures, put in floor to ceiling slatwall, lots of lighting and organized the store for an easy flow of traffic.
What steps have you taken to expand your customer base or to reach out to individuals unfamiliar with your store or comics in general? We have had a lot of free press due to losing our lease and ran a Kickstarter campaign to help with the huge cost of the move. The Kickstarter gave us national coverage and garnered many new faces. We have been advertising the move at conventions, in our store, on Facebook, Twitter, Instagram, our website, billboards and bus signs. Being across the street from a major light rail station has increased foot traffic and we have been busier than ever before.
What are your plans for the near future? To continue promoting the store with in store events, and expand our presence on social media and in the community. We have been working with other local merchants in our area on promoting local businesses. We continue to strive to have an unbeatable inventory of both new and back issue comics and related merchandise and give great customer service. It has served us well for the last 33 years and we hope to continue that for many years to come.
How did you choose your store name? With an educational background, we wanted words from the Dolch Word List (the first 200 words we learn to read and write, "All About Books and" are four of those words) and to begin with the beginning of the alphabet to be at the top of the yellow pages. This was many years ago when the yellow pages was the main source for locating merchants, long before the internet.
What superpower would you most like to have? Super Health!
An overview of the shop.
Single issues are easy to browse in these stylish shelves.

An island display showcasing featured recent releases sits in front of the checkout counter.
Trade paperbacks, graphic novels, and manga make up this section of the shop (while bust banks have set up watch over top).

The kids section features comics, awesome merch, and a seating area for pint-sized superheroes.
Apparel, statues, and specialty goods can be found in this corner of the shop.

Customers can find toys and action figures from a number of different titles and franchises.
The entrance to the shop's discount hub—an offshoot of their warehouse space.
Click here to see more stores featured in the Comic Shop Spotlight!