Comic Shop Spotlight: Alternate Reality Comics
Dec 01, 2016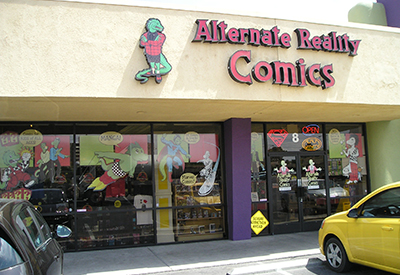 Click to see larger image.
Alternate Reality Comics in Las Vegas, Nevada.

OWNER: Ralph Mathieu
NUMBER OF EMPLOYEES: 3
YEAR OPENED: 1995
NUMBER OF LOCATIONS: 1

STORE SIZE (SQ. FT): 2,200


Favorite Recent Comic Book: Afterlife with Archie, Sabrina
How was your Halloween ComicFest event? Good.
What has been your best promotion or event? Free Comic Book Day.
What recent changes have you made in the store? Updated Artist Spotlight area.
What steps have you taken to expand your customer base or to reach out to individuals unfamiliar with your store or comics in general? More active presence on Facebook.
What are your plans for the near future? Celebrating my 20th anniversary in business. A 20th anniversary store comic.
How did you choose your store name? To suggest the concept of alternate realities in our medium.
What superpower would you most like to have? Speed.
An overview of the shop's layout.
Featured titles are showcased along one wall.

The store features many specialty sections to help customers find the perfect book, and a nice t-shirt collection keeps them clothed.
Books grouped by genre make for easy browsing.

There's also an all-ages section for newly-minted comic readers!
Owner Ralph Mathieu.
Click here to see more stores featured in the Comic Shop Spotlight!