Comic Shop Spotlight: Alter Ego Collectibles
Dec 01, 2016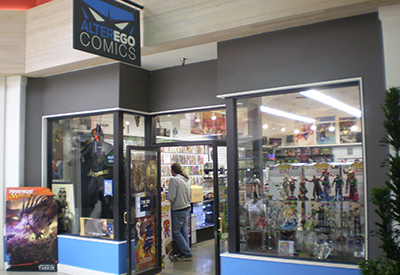 Click to see larger image.
Alter Ego Comics in Bellevue, Washington.

OWNERS: Michael Johnson and Lola Perez
NUMBER OF EMPLOYEES: 7
YEAR OPENED: 2012
NUMBER OF LOCATIONS: 1

STORE SIZE (SQ. FT): 800


Favorite Recent Comic Book: Image Comics' Low
How was your Halloween ComicFest event? It was better than the prior year. The mall does a big trick-or-treat event, so we work that into our day.
What has been your best promotion or event? Free Comic Book Day.
What recent changes have you made in the store? We have added more clothing, which is doing very well.
What steps have you taken to expand your customer base or to reach out to individuals unfamiliar with your store or comics in general? We are using more targeting with Google.
What are your plans for the near future? We are planning to expand our book section and move some displays around to maximize our space.
How did you choose your store name? Most superheroes have some sort of an alter ego, so we wanted to utilize that connection with our store name.
What superpower would you most like to have? Grant extended life to everyone, not just myself. If I couldn't have that, I'd like faster learning ability.
There are plenty of comics to choose from...
...As well as trade paperbacks.

Action figures and toys feature prominently in the store.
There is a generous selection of "blind box" items.

Customers can have their pick of Star Wars merchandise, old and new.
The shop also has a nice array of apparel.

Large side windows give mall-goers a peek at a sampling of what the store has to offer.
Co-owner Lola Perez.
Click here to see more stores featured in the Comic Shop Spotlight!