Comic Shop Spotlight: True Believer Comics
Dec 01, 2016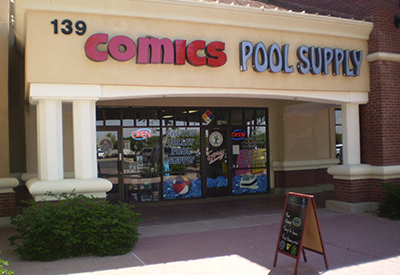 Click to see larger image.
True Believer Comics in Gilbert, Arizona.

OWNERS: Michael and Nina Kessler
NUMBER OF EMPLOYEES: 1
YEAR OPENED: 2014
NUMBER OF LOCATIONS: 1

STORE SIZE (SQ. FT): 1,300


Favorite Recent Comic Book: Spider-Verse
What has been your best promotion or event? Our Creator Appreciation Day was very successful for us.
What recent changes have you made in the store? We increased our Heroclix presence, hired an employee that specializes in Magic the Gathering to grow that aspect of the business, and also built up our board game selection.
What steps have you taken to expand your customer base or to reach out to individuals unfamiliar with your store or comics in general? I created the AZHeroclix Facebook page which will help grow the gaming community here in the store.
What are your plans for the near future? I will continue to more the business further increasing the customer base and reposition product lines to make sure each is profitable.
How did you choose your store name? I have always been a big Marvel fan and True Believer was the iconic phrase always used in the letters pages of the comics I was reading throughout the 1980's.
What superpower would you most like to have? Invisibility.
The store's logo makes for an eye-catching floor design.
Featured island displays sit opposite the stylish comics wall.

Trades are organized and feature easy-to-read signage that make browsing a breeze.
The shop's gaming area boasts a neat set-up.

A customer sits back and relaxes in the shop's reading area with Rocket and Groot.
Owner Michael Kessler.
Click here to see more stores featured in the Comic Shop Spotlight!