Comic Shop Spotlight: Bedrock City Comic Company (Sugarland)
Dec 01, 2016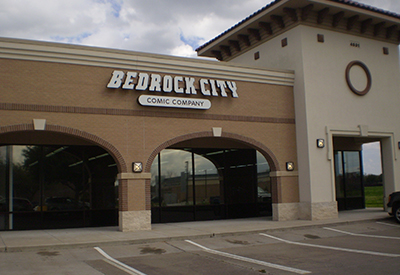 Click to see larger image.
Bedrock City Comic Company in Sugarland, Texas.

OWNER: Richard Evans
MANAGER: Leann Sukman
NUMBER OF EMPLOYEES: 5
YEAR OPENED: 2014
NUMBER OF LOCATIONS: 5

STORE SIZE (SQ. FT): 3,400


Favorite Recent Comic Book: Thor
What has been your best promotion or event? Our weekly newsletter is really well received and works well for us.
What recent changes have you made in the store? We opened this new store in Sugarland, our 5th location overall.
What steps have you taken to expand your customer base or to reach out to individuals unfamiliar with your store or comics in general? Facebook and Twitter have really been key for us.
What are your plans for the near future? Increase our customer base in the new location.
What superpower would you most like to have? Flight.
The new release section gets ample wall space.
The shop features and extensive collection of back issues.

Trades and collected editions also get plenty of wall real estate, making for easy browsing.
Young readers get their own section with clear signage to help highlight the selction.

Action figures, plush dolls, and other assorted toys make up this portion of the store.
Loose vintage figures are offered protection and a fresh set of duds with the shop's attractive repackaging.

Aspiring heroes can suit up with the shop's apparel offerings.
From left to right: manager Leann Sukman, Kevin Travers, and James Collins.
Click here to see more stores featured in the Comic Shop Spotlight!