Comic Shop Spotlight: Bedrock City Comic Company (Houston)
Dec 01, 2016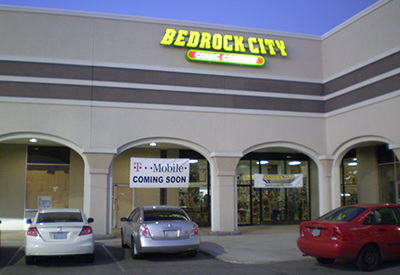 Click to see larger image.
Bedrock City Comic Company in Houston, Texas.

OWNER: Richard Evans
MANAGER: Michael Steenbergen
NUMBER OF EMPLOYEES: 26
YEAR OPENED: 1990
NUMBER OF LOCATIONS: 5

STORE SIZE (SQ. FT): 8,200


Favorite Recent Comic Books: Image Comics' Velvet and Lazarus
Special Events: Free Comic Book Day, Halloween ComicFest, in-store gaming events, creator signings, and a bi-annual sale.
Community involvement: We work closely with libraries and various charities, including Toys for Tots.
How was your FCBD event? It was the best ever! We incorporate libraries, schools, teachers, and movie theaters into our event, and it is always great!
What did you like about the Retailer Summit? Interacting with other retailers is always a great benefit of the Summit as well as the chance to speak directly with publishers.
What aspect of your store are you most proud? Our employees are the best and our customer service.
What do you do that is innovative within your store? We offer a wide range of products not found in other shops and we stay on top of trends to better provide the merchandise our customers are looking for.
What has been your best in-store promotion? Our Halloween sale and, of course, Free Comic Book Day.
What has been your best out-of-store or cross-promotion? Our secret Facebook sale we promote each Monday and tie-ins with movie theaters.
What recent changes have you made to your store? We moved the store and tripled our square footage.
What are your plans for the near future? We will open our 5th location
How did you choose your store name? We just thought it sounded fun.
The new release section is spacious and organized.
Back issues are also easy to browse through.

Customers can also have their pick from a wealth of trades and graphic novels.
And there's plenty of all-ages titles and merchandise for comic lovers young and old.

The shop is well stocked to keep fans outfitted in apparel from all of their favorite properties.
Island displays also highlight popular series and characters.

Funko's POP! Vinyl figurines dominate this display.
The front counter is always bustling and features a host of collector items.
Click here to see more stores featured in the Comic Shop Spotlight!