Comic Shop Spotlight: Urban Legends
Dec 01, 2016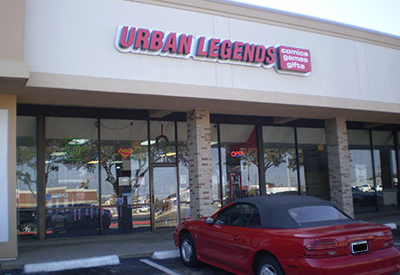 Click to see larger image.
Urban Legends in Mesquite, Texas.

OWNERS: Aaron Settle and Wendy Wilson-Settle
MANAGER: Stephanie Crane
NUMBER OF EMPLOYEES: 4

YEAR OPENED: 2013
NUMBER OF LOCATIONS: 1

STORE SIZE (SQ. FT): 2,000


Favorite Recent Comic Book: Batman
How was your Halloween ComicFest event? It was really a great day! We had costume contests, gave out cupcakes, and also had a successful food drive.
What has been your best promotion or event? Our anniversary party was a great event, but when a Magic the Gathering pre-release or release is on Free Comic Book Day, that is hard to top.
What recent changes have you made in the store? We changed up our front window display.
What steps have you taken to expand your customer base or to reach out to individuals unfamiliar with your store or comics in general? Our local outreach to neighboring schools and the presentations we do for them have been our best way to educate and introduce comics to new fans.
What are your plans for the near future? We will work hard to continue expanding our customer base.
How did you choose your store name? After spending more than a month trying to find just the right name, Wendy came up with Urban Legends and it was perfect.

What superpower would you most like to have? Long-distance teleportation.
A general overview of the store.
The layout features generous aisle space, making browsing for books easy and comfortable.

A featured island display sits in front of the shop's all-ages section.
The store boasts a massive selection of board games.

They also have a great PREVIEWS display that utilizes interior pages.
Customers can rep their favorite superheroes and series with t-shirts and apparel.

This display features a number of comic and fandom odds'n'ends.
Store manager Stephanie Crane.
Click here to see more stores featured in the Comic Shop Spotlight!