Comic Shop Spotlight: Wonko's Toys & Games
Dec 01, 2016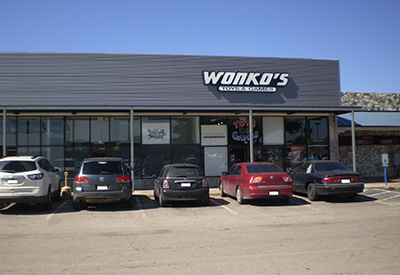 Click to see larger image.
Wonko's Toys & Games in Austin, Texas.

OWNER: Eric Dow
MANAGER: Erica Dow
NUMBER OF EMPLOYEES: 6
YEAR OPENED: 2009
NUMBER OF LOCATIONS: 1

STORE SIZE (SQ. FT): 4,500


Favorite Recent Comic Book: Sandman
What has been your best promotion or event? All of our Magic the Gathering pre-release events are very good. International Table Top Game Day has also been a great event for us.
What recent changes have you made in the store? We expanded our square footage to now include a full gaming area, complete with a D&D room and a painting room for miniatures.
What steps have you taken to expand your customer base or to reach out to individuals unfamiliar with your store or comics in general? By expanding into new product lines, we create customers that haven't always shopped with us in the past.
What are your plans for the near future? We will utilize our newly expanded space to hold more gaming events.
How did you choose your store name? It was right out of The Hitchhikers Guide to Galaxy.
What superpower would you most like to have? Shape-shifting.
There are plenty of toys and games to choose from among the shop's neatly organized shelves!
Some of the store's most popular items get their own featured displays.

Customers can keep up-to-date with the store's upcoming events thanks to this nice in-store calendar.
The newly-expanded gaming area accomodates a bigger crowd.

This hand-crafted gaming table was a special gift to the Dow family.
The front counter is surrounded by some irresistible items.

(From left to right) Denise and Erica are assisted by the store mascot!
Click here to see more stores featured in the Comic Shop Spotlight!