FCBD 2014 Interview with Dan Herman about Buck Rogers
Mar 07, 2014

FCBD: For those who might be new to your comic book give a quick rundown, what can we expect to see in terms of the story and the art?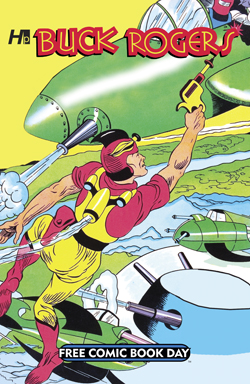 Dan Herman: "First of all, Buck Rogers is a classic. Buck has been around for over 80 years. What we like to do with Free Comic Book Day is to give a sampling of all the different incarnations of Buck Rogers. Since last year marks the reintroduction of Buck Rogers by artist and comic book legend Howard Chaykin, we thought it would be appropriate to feature a sampling of artwork and stories from the beginning of the series and also showing what Buck Rogers looks like currently. Accordingly, you can expect to see original Sundays, which incidentally feature Wilma Deering's kid brother Buddy, and Alura, his girlfriend, instead of Buck Rogers and Wilma Deering. What is really fascinating about the Russell Keaton artwork in the one complete continuity we are presenting from the early Sundays is that it is charming, stylish, and truly qualifies as fantasy art. From there we are jumping to present a number of examples of the artwork of Silver Age comic book legend Murphy Anderson with his 1958-1959 run on the Buck Rogers Sundays. The book is finishing off with examples of Howard Chaykin's most recent work on the Buck Rogers title, which just completed its initial four run story ARC. There will also be some surprises including memorabilia."
FCBD: What has been your favorite part of book or character to tackle?
Dan Herman: "In the case of the most recent Buck Rogers, I think Howard's biggest challenge was to keep true to the character, which he did, and yet give it a contemporary flavor. On both counts the new Buck Rogers, portions of which will be on display in the Free Comic Book Day comic book, were 100% successful."
FCBD: Tell FCBD fans why they should pick up your book first on Free Comic Book Day.

Dan Herman: "The answer to this is simple. Our Free Comic Book Day gives you an historic collection of Buck Rogers from the beginning of the Sundays to its current Howard Chaykin version. Truly, an historic representation of the most important science fiction strip ever."
FCBD: What other titles would be associated with your FCBD book?

Dan Herman: "Well, if you're captivated, interested, or get hooked on any of the versions of Buck Rogers, Hermes Press publishes a wide range of Buck Rogers books ranging from reprints of the classic daily strips, reprints of the classic Sundays, reprints of the Gil Gerard Erin Gray TV tie-in books to the Howard Chaykin comics. We also just recently published the 1979 Gray Morrow newspaper strip version of Buck Rogers so there is a wide variety of material currently available."
FCBD: What is your favorite part about working in comics?
Dan Herman: "Bringing science fiction and fantasy to a broad audience on a regular basis. Even with today's special effects, the movies would be hard pressed to create the sense of fantasy and awe created by these comic books and strips."
To see more Buck Rogers comics, go to www.hermespress.com.