FCBD 2014 Interview with Sean O'Reilly and Chris "Doc" Wyatt about The Intrinsic
Mar 14, 2014

FCBD: For those who might be new to your comic book, give a quick rundown. What can we expect to see in terms of story and art?

DOC: "The Intrinsic is the combination of a bunch of Arcana characters all brought together into one team. Think of it as an indie publisher's version of a Justice League or Avengers. If you've loved Arcana books in the past, you're going to recognize some of your favorite characters, but if you're new to Arcana, this is a great way to jump on board and meet everybody."
SEAN: "Arcana is celebrating ten years as a publisher. Publishing years are kind of similar to dog years so it is a really long time. The Intrinsic is an amazing project that culm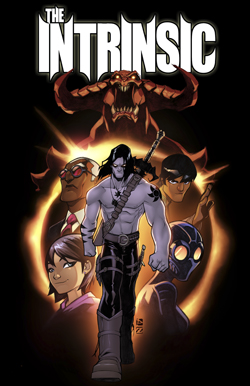 inates many of our ten years as a publisher with characters coming together under a single title. The Intrinsic also have a guest appearance on the animated TV series Kagagi (coming this fall). Thu Thai is the primary artist and we've done something very unique with this book using a painted style and we're very excited. As for the story, Doc and I have put together a story that is timely and will engage previous readers of Kade, Kore, Candice Crow, Philosopher Rex and any of Arcana's FCBD's, as well as a story to engage new readers."
FCBD: What has been your favorite part of book or character to tackle?

DOC: "As a reader, I've been a big fan of the Arcana characters for a while, so this is my chance as a writer to get into their sandbox and play!"
SEAN: "My focus has always been the characters and the arc they go through. I love it when a character we know is pushed in a new direction, but doesn't "jump the shark". I don't like it when a character we know is pushed 'out of character'. An example I love is when Peter David went into detail of Quicksilver's motivation in X-Factor. We knew Quicksilver was a crank and had a a well defined personality, but it was PAD who took this character to a new and deeper understanding. I remember and love those moments."
FCBD: Tell FCBD fans why they should pick your book first on Free Comic Book Day!

DOC: "It all comes down to the characters. You want to see a demon from another realm play air hockey with an immortal warrior born during the iron age? Well, you can only get that here."
SEAN: "This is a 10 year mark in our journey and we are pulling out all the tricks. This FCBD issue will lead into The Intrinsic #1 with a cover by Alex Ross. Yes, Alex Ross. It was a dream come true for me to have Alex Ross paint a cover of the Arcana characters. Kingdome Come is still, to date, one of my favorite graphic novels ever."
FCBD: What other titles would you associated with your FCBD book? "If a comic reader likes _______ , they should pick up my title"?
DOC: "X-Men. The Avengers."
SEAN: "If a comic reader likes new stories with a fresh group of characters, this is the series to keep an eye on. The Intrinsic are an eclectic group of characters where their personal dynamics are just as entertaining as their battles."
FCBD: What's your favorite part about working in comics?
DOC: "That moment when art comes in and you get to see the characters realized onto the page! Creepsville was my first book with Arcana and it was so exciting, but seeing pages come in never loses any luster!"
SEAN: "I love how comics allow for boundless imagination. It's like having a tent-pole movie without any budget constraints. I also really enjoy talking with comic book readers about the industry, entertainment and the stories we love."
FCBD: Many newcomers will pick up comics for the first time on FCBD—what was the first comic you remember reading?
DOC: "I was seven or eight and it was an issue of Amazing Spider-Man that had Peter Parker standing in front of Aunt May's tombstone. It knocked my socks off."
SEAN: "I had three big issues that brought me into comics. First comic ever was Transformers #1 (I was obsessed with the toys) and this was my introduction to the medium of a comic book. Next big one was Secret Wars #4 (I bought it at a Husky gas station). Sure I knew Spider-man and Hulk, but now I was able to see so many more characters and, wanting issue 1-3, I crept into a comic book store to complete the collection. Completing my comic book coming of age trifecta was X-Men #210. I was 11 and I was literally unsure if I should read it or not fearing it was too mature for me. It was incredible and from then on, I became a life long X-Men fan."
FCBD: Where will you be for this year's FCBD? Do you have any annual FCBD traditions?
DOC: "I'll be grabbing as many free books as I can. That's my tradition."
SEAN: "Last year Doc and I did a signing at Galaxy of Comics and that's where we started working on The Intrinsic. This year I think I want to do a signing in Vancouver. I also like to do something special (last year I hired the League of S.T.E.A.M., we've had Lions cheerleaders, giant cakes, etc). Something cool and will try to figure it out soon."
FCBD: Looking to the future of the book, is there anything you can tease about what's upcoming?
DOC: "Our FCBD issue leads into a four miniseries that introduces a new villain, and changes the team's character dynamic completely."
SEAN: "The Intrinsic FCBD is our issue 0, and The Intrinsic #1 will be out two months later. We are hoping at holding our audience with this great series. Also, did I mention an Alex Ross cover?"
FCBD: Tell us why everyone should read comic books?
DOC: 'There's a richness of imagination in comic books that other media struggle to match.'
SEAN: "Because they are…awesome."
---
About Arcana:Arcana owns one of the world's largest libraries of graphic novels and comics, with over 250 original intellectual properties, hundreds of graphic novels and a treasure trove of thousands of characters. Arcana's high quality branded entertainment is filled with characters and stories that transcend gender age, cultural and geographic boundaries.
Arcana is also producing feature films such as The Clockwork Girl and Pixies and episodic television series including Kagagi: The Raven. Taking a transmedia approach to brand building and intellectual properties, Arcana's stories can live successfully on traditional and new media platforms. Arcana Studio Inc. remains independent of major entertainment studio affiliation.
To see more of Arcana comics, go to www.arcana.com.
You can also follow Arcana on Facebook and Twittter and Chris, aka "DOC" on Facebook and Twitter to see the latest comics that are being worked on.