FCBD 2014 Interview with the Creative Team Behind Fubar: Ace of Spades Comic for FCBD
Mar 10, 2014

FCBD: For those who might be new to your comic book, give a quick rundown. What can we expect to see in terms of story and art?
Chuck Dixon: "Death, destruction and mayhem. A hunter/killer special ops unit is out to capture Saddam Hussein and run into weaponized zombies instead. I mean, what happens after that is not for the squeamish.'

Jeff McComsey: "First up is THE ACE OF SPADES. Written by Chuck Dixon with art by myself and Steve Becker. Ace Of Spades is a full length zombie spec ops tale chocked full of combat boots and hand grenades. It's our first foray into modern warfare and that's just the first 24 pages! After that we have a back up story titled: ZERO DEAD THIRTY about the raid to on Osama Bin Laden's compound in Pakistan that goes sideways!"

Steve Becker: "FCBD14 will be a couple of firsts for us at FUBAR since not only will this be the first time we are commercially releasing a complete full length story available as a stand alone issue, it is also a serialized tie-in sequel to FCBD13. We've had a lot of success with the anthology format in the past and last year we offered our FCBD book in a similar style with 5 shorts stories to accompany our American History Z full size anthology, but we wanted to sink our teeth into something more substantial story wise this time around so luckily we were able to get Chuck Dixon on board with Jeff and myself coming back to pick up with a new story featuring the surviving members of Task Force 121 from last year's short story "The Jack Of Spades"."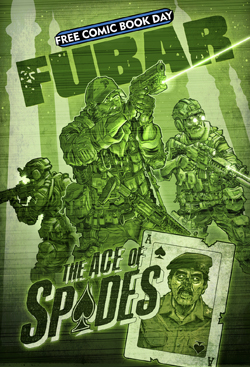 FCBD: What has been your favorite part of the book or character to tackle?
McComsey: "I was thrilled to get the script for our first full length one-shot from Chuck. We've always wanted to tell longer stories and the fact we now have and it's going out to shops all over the world for free is fantastic. As an artist, drawing a military team book written by Chuck Dixon is just awesome. Thanks to this project, I've scratched a few things off of my comic making bucket list."

Dixon: "I just love working with these guys. It's pure comics in the best sense of the word. Enthusiasm is high and the professional attitude of everyone on FUBAR rises to meet that rush."

Becker: "For me it had to be doing the cover for the book since I'm always excited to get to put the face on an issue and had a whole mess of ideas that I wanted to use for a spec-ops cover piece. So over the course of a week I had a couple of sit-downs at the best pizza place in town with a very skeptical Jeff McComsey attempting to convince him with fast talking and quickly scribbled napkin drawings that the cover layout was under control and that it'd be done early and on point. Either he acquiesced or he ran out of time finding somebody else to do another cover because it ran exactly how I laid it out hahaha. It's just fun since we'd thrown the idea of a special forces issue around for awhile and got a taste of that with our short story for FCBD13 so this time around we were excited to broaden the scope and magnitude of the the action involved in the storytelling and try and out-do ourselves by fleshing it out to a whole book."

McClelland: "That's actually a very interesting question. The FUBAR gang, no lie, gets together once a month for a game of tackle football. Steve is a dirty player whose motto is "if you ain't cheatin', you ain't tryin'." Chris is Canadian and does not yet have a handle on the game, which he refers to as "American soccer", despite there being a Canadian football league that he could watch at any time, and also the Buffalo Bills which kind of count. But he does bring a briefcase full of round bacon to every match, so we keep inviting him back."

Lambert: "I love writing historically-accurate fiction, and the chance to add a twist to the bin Laden raid was irresistible. Plus, I could pitch my story in three words: Zero Dead Thirty."

FCBD: Tell FCBD fans why they should pick your book first on Free Comic Book Day!
Dixon: "It's a new story. It's a complete story. It's not just a giveaway comic cobbled from old material. And it rocks from cover to cover."

Becker: "Nostalgia comes to mind, not because FUBAR is a long-running or storied war comic steeped in tradition but because our love for those black and white pulp books like Blazing Combat, Two-Fisted Tales and Frontline Combat were the reason we tried to create this one. We are not a big company but we make comics for the love of comics and hope to gather fans that also feel the same way about the stories they read that are just meant to be a comic book."

FCBD: What other titles would you associated with your FCBD book? "If a comic reader likes _______ , they should pick up my title"?
McComsey: "Any fans of military books like G. I. JOE and Marvel's MAX imprint or zombie books like THE WALKING DEAD will throughly enjoy this one."

Becker: "If a comic reader likes Dark Horse Presents, Blazing Combat, Two-Fisted Tales and Frontline Combat with a dose of the undead, they should pick up FUBAR: The Ace Of Spades."

FCBD: What's your favorite part about working in comics?
Dixon: "Not having to dress for work. And making a living by making things up all day."

McComsey: "As an editor/publisher it's when that first box of books arrives from the printer and I make sure the book didn't print upside down. As an artist I like the first time I get to sit down with the script and start breaking the story down. I also like the dress code and not sitting in traffic."

Becker: "We are creator-owned small press that has the luxury of be being able to tell stories and make comics for people who enjoy comics. We get to be our own boss and have fun living the dream of making comics a reality. We get to work with like-minded talent from all over the world and share in the camaraderie of that community. We get to hear stories from fans who found our small book in a shop somewhere in Australia and want to know where they can get more. And personally I love getting to haul around and set up an obnoxious bunker with a machine gun emplacement at conventions!"

McClelland: "There are few greater joys in the universe than seeing a story - which at one point only existed in your head - come to life, stage by stage. I thrill every time new artwork shows up in my inbox."

Lambert: "I really enjoy collaboration with creative people. I also love the fact that, as an indie creator, readers EXPECT you to push the envelope to make something better than the Big Two can offer."

FCBD: Many newcomers will pick up comics for the first time on FCBD—what was the first comic you remember reading?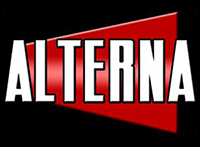 McComsey: "It was Punisher #43 by Bill Reinhold and Mike Baron. Great one-shot story that I still pull out and re-read from time to time."

Dixon: "It was an old Marvel monster comic. I don't remember the name of the comic because it had the title ripped off the cover. I do recall that it featured SPORR!; this creepy yellow Kirby creation with lots of tentacles."

Becker: "I was growing up in the comics boom of the 90's so I'd ride my bike to the other side of our rural upstate NY town to a tiny half a room comic shop in the back of a funeral home to pick up Spawn and The Maxx every month. I also would snag any Dark Horse Aliens titles I could get my hands on."

McClelland: "My first comics were some of the last my dad bought just for himself. This last sentence makes it seem like my father died in some tragic fashion, which is not the case, though he probably won't read this interview so I don't know whose feelings I'm trying to protect here, anyway. I distinctly remember Fantastic Four #183, which featured copious amounts of the Thing, and also the Brute. The idea of an evil, alternate universe Reed Richards was fascinating to me, and it remains a cool concept even though now everyone's trying to do that these days."

Lambert: "Marvel's Star Wars #7. It blew my 8-year-old little mind that there was a story that happened AFTER the movie ended."

FCBD: Where will you be for this year's FCBD? Do you have any annual FCBD traditions?
Dixon: "I'll be at a local comic book shop somewhere in Tampa. We have a lot of them for some reason. I haven't made up my mind yet. But I'm being courted like Scarlett O'Hara right now."

Becker: "The FUBAR editorial staff and contributors usually spread out to the 4 corners of the globe on FCBD, signing books worldwide. I think last year we had FUBAR contributors in 12 states, 3 provinces, 4 countries and 28 shops on FCBD13. The last couple years I've headed up to Comic Book Jones in Staten Island to hang out for the day sketching and signing books till they tell me to leave."

McClelland: "Last year I took a trip up to Boston and New England Comics for FCBD, and I was disappointed that I did not see even one sighting of the Clam Chowder monster, which I just made up for this interview. I'm hoping to return this year (does twice count as a tradition?), as I'm also writing the Free Comic Book Day special issue of The Tick. If anyone comes to NEC and brings copies of FUBAR with them, I'll probably sign those, too, though I may make an exasperated sighing sound that leaves us both uncomfortable while doing so."

Lambert: "I'll be at Super Fly Comics in Yellow Springs, Ohio. FCBD is the one signing I do a year where I bring my kids with me. They love FCBD, and it's a great chance for me to expose them to everything that's great about the comic book industry. It's literally become "Geek Christmas" for us."

FCBD: Looking to the future of the book, is there anything you can tease about what's upcoming?
McComsey: "All I can say is where FUBAR PRESS is going we won't need roads."

Dixon: "More death. More violence. High body counts. And you'll even learn something about history along the way."

Becker: "We've got a lot of new material we'll be pushing out to shops this year, keeping pace with quarterly issues as well as the upcoming By The Sword anthology which is a collection of about 5 giant-sized issues worth of hack and slash zombie shorts. A few more full length character driven stories as well as new book formats and our first full length original graphic novel that Jeff McComsey is doing for Mother Russia. I'll get the chance after that with my own GN which follows the exploits of a barbarian named Mad Dog."

FCBD: Tell us why everyone should read comic books?
McComsey: "For my money, the best original pulp fiction today is being done in the comics medium and if you're not reading it, you're missing out."

Dixon: "Because the thought of mobs of unemployed comic book professionals roaming our streets is too awful to consider."

Becker: "You should read comics because believe it or not there are just some stories that can only be told as a comic book. They can't be a novel and they can't be a movie but when you read them as a comic it all just comes together and feels right."

McClelland: "Comics have been with me through nearly every stage of my life. They've taught me so much, and I want other people to have similar experiences. When I was a kid, I learned the word "impudence" from Dr. Doom and "gauntlet" from, well, from that time when every Marvel character used the word "gauntlet" over and over. When I was in college, enjoyed the self-reflective properties of books like "Blankets" and "Maus". And now that I'm a grown individual, I enjoy being cranky and cantankerous over seemingly minor changes to my favorite characters, such as Superman's stupid new armor that completely misses the simplistic brilliance of red trunks. Everyone deserves the chance to lose themselves in the immersive nature of comics. There really is something for everyone."

Lambert: "Indie comics are truly the last bastion of creativity and original thought. They're also going to be the only type of entertainment media not owned by Disney."
To see more of the creators comics, go to www.alternacomics.com.
Follow Jeff McComsey at @Jeff_Mccomsey and on Facebook.
Follow Steve Becker at @FUBARPRESS and on Facebook
Follow Chuck Dixon at @dixonverse and on Facebook.