FCBD 2014 Interview with Creative Team of EPIC #0 FCBD Edition
Feb 28, 2014

The EPIC team of writer Tyler James and artists Matt Zolman and Fico Ossio talk about EPIC #0, the FCBD pilot issue of a brand new ComixTribe ongoing series, appropriate for all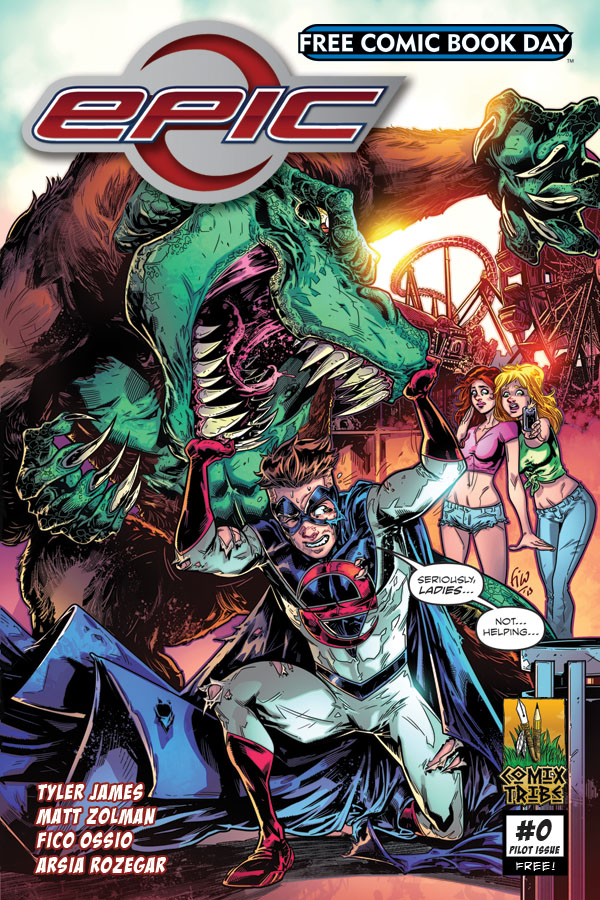 audiences.
FCBD: For those who might be new to your comic book, give a quick rundown. What can we expect to see in terms of story and art?
Tyler James (TJ): "EPIC is a superteen action comedy about your average teenager who, in a Stan Lee-esque twist of fate, obtains incredible superpowers with but one weakness...his powers don't work when he's around girls he's attracted to! (Maybe a few of you guys can relate?) In this pilot issue, we don't hold anything back. You'll meet EPIC's entire rogues gallery of zany supervillains, and we set-up a bunch of plot-threads for what we hope will be an EPIC-sized ongoing run for the series."


FCBD: What has been your favorite part of book or character to tackle?
Matt Zolman (MZ): "As an artist, trying to create emotions in the characters is my favorite part of the process. There's a diverse cast of heroes and villians, and they're all fun to draw."
Fico Ossio (FO): "My favorite character to tackle is Epic. I really wanted to make him look like a 16-year-old, but he´s also a superhero, so I still have to give him the ¨body & muscles¨ that goes with that. It's an interesting challenge defining the line between those different physiques. I also have a lot of fun drawing capes!"
TJ: "Anyone who grew up reading super-hero books knows the good ones excel in three areas: great action, witty banter, and surprising heart. I've tried to infuse those three elements into EPIC, and as a result, it's a blast to write. It's the same feeling I got as a kid pulling action figures out of the toy box and making them knock heads. And the art...man, there is something that delights me on EVERY SINGLE PAGE!"
FO: "My favorite part of the book is the last two pages…the moment that we find out that Epic´s "kryptonite" is hot girls. It´s a moment where you realize what´s different and new about this story, and Tyler unfolds it in a hilarious way."


FCBD: Tell FCBD fans why they should pick your book first on Free Comic Book Day!
TJ: "Let's talk about value for a minute. I love FREE COMIC BOOK DAY, but often the books that are released by publishers for the event are reprints or small teasers of future comes. Not EPIC #0. We're giving readers an extra-sized, 32-page full-pilot issue. And we're throwing the entire kitchen sink at you, in order to hook you on our book. All that for the price of FREE? How can you go wrong?"
MZ: "EPIC is simply a fun superhero book featuring over-the-top characters that kids, teens, and adults can relate to. It's a great origin issue that's a blast to read and is packed with all kinds of action."


FCBD: What other titles would you associated with your FCBD book? "If a comic reader likes _______ , they should pick up my title"?
MZ: "If readers like Invincible, but wish the character didn't grow up so fast, they'll love EPIC. All the fun, without the gore."
FO:"I'd say fans of Ultimate Spiderman (both the current Miles Morales incarnation, and the legendary Bendis/ Bagley run) will love EPIC. Both books feature a teenager who gets a huge set of powers, which are as much a curse as a blessing. The books share a similar comedic approach."
FCBD: What's your favorite part about working in comics?
MZ: "Working with a ridiculously talented writer who loves the art of creating comics!"
TJ: "What a sweet talker! Likewise, it's dreaming up characters and situations, and then working with epically talented artists to bring them to life."
FO: "Well... aside from the obvious, like having the privilege of making a living from something I used to do as a hobby, I´d say it's being part of something that I enjoyed so much as a kid (and still do.) That´s pretty amazing."


FCBD: Many newcomers will pick up comics for the first time on FCBD—what was the first comic you remember reading?
MZ: "ROM Spaceknight. The cover art sucked me right in."
TJ: "A classic issue of Spider-man, featuring Doc Ock and the Black Cat. Action-packed, funny, sexy, heart-wrenching…it had it all."
FO: "The first comic I picked up was BATMAN ( always on capslock!) It was ¨Death in the Family,¨ the part where the Joker blows up Robin. So yeah…it definitely left a strong impression on me!"


FCBD: Where will you be for this year's FCBD? Do you have any annual FCBD traditions?
TJ: "I've done signings at some of the best comic shops in New England (Larry's Wonderful World of Comics, Jetpack Comics, Comically Speaking) over the past several FREE COMIC BOOK DAYS. But it's SO much more fun to do when you have a book to give out that day!"
MZ: "Typically, I take my son to FCBD to enjoy all the craziness. This year I'll table at a local comic shop to help promote the book."


FCBD: Looking to the future of the book, is there anything you can tease about what's upcoming?
TJ: "EPIC #1 (FEB141121), the first issue of the new EPIC ongoing series comes out the very first Wednesday after FREE COMIC BOOK DAY. We want to hook them on Saturday, and then get them right back to the comic shop on Wednesday to pick up the adventure where we left off, as EPIC fights a werewolf, meets the girl of his dreams, and we see the origin of his first super-villain nemesis.
MZ: "Giant Spiders, a heroic Werewolf and EPIC getting into trouble with the ladies. It's can't miss stuff."


FCBD: Tell us why everyone should read comic books?
FO: "I think there´s nothing like it. Comic books let you get inside the characters' heads in a way that perhaps only books can, but also have a great visual value that books can't match. Even movies struggle to take the magic comics have to the screen."
TJ: "Comics are an incredible medium that spark the imagination like no-other. Attend a comic shop on May 3 for Free Comic Book Day, and I guarantee you'll find a book there for you. (And of course, I hope EPIC is that book!)"
To see more of what the writers and artists are working on, follow Tyler James on Twitter @tylerjamescomic and Facebook, Matt Zolman on Twitter @mattzolman, and also check out the Epic FB page at https://www.facebook.com/EpicComic. You can see more comics from all three creators at www.comixtribe.com.